They say, "it's all in the eyes", so when seasonal allergies are at an all time high, and puffy doesn't even describe the current state they're in, what is one to do? Fret not, we've rounded up the crème de la crème of tricks and treatments that really work to diminish puffiness, and will send those under eye bags packing.
Caffeine Eye Cream
Wake up those under eyes, literally, with a de-puffing eye cream that has a punch of caffeine in it. Apply dreamy and soothing Sisley's Supremya Eyes At Night Cream in the PM for a trifecta of fast-acting ingredients to combat puffiness: Açai, yeast extracts, and caffeine. Another Zeel go-to, AMOREPACIFIC's Moisture Bound Rejuenvating Eye Treatment Gel, a lightweight cooling gel-cream that absorbs instantly and quickly battles puffiness with bamboo sap and caffeine.
Neti Pot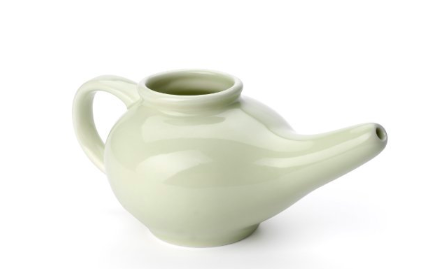 Chances are, you've encountered this small teapot looking device at your neighborhood organic grocery store. The neti pot is an Ayurvedic remedy that we find really helps flush out all of extra mucus your allergies are producing. Simply fill it with a sinus solution, pour through one nostril and drain it out the other.
Cooled Tea Bags
Tea time for two (puffy eyes). While this may be the remedy you heard growing up, cooled tea bags absolutely do offer rapid relief and an instant soothing effect to your eyes. Our take, go for an herbal blend like chamomile or rooibos and steep two bags in hot water, let them cool and then apply to your eyes and let the goodness and natural ingredients work their magic.
Ice Roller
Bags of ice to your eyes? Please. The skin care tools of yesterday have been updated, elevated, and easier to use than ever. Meet the Hansderma Face Ice roller (which has many life changing reviews on Amazon). Simply pop this de-swelling miracle tool in the freezer and gently roll under your eyes for instant relief and results. Be careful to not roll harshly as the skin under your eyes is thinner.
Center your Chi + De-Puff With This Mask
Empresses in China have rejuvenated their faces with Jade tools (and eye masks) for thousands of years, so they must be onto something. Gingerchi's Jade Chi Mask feels cooling to touch (put it in the fridge for an extra chill effect) and heavy-ish (which apparently helps relieve the pressure of your sinuses and puffiness) and offers a meditative effect. Close your eyes and let the Chi mask do its thing.